UTN 2022 Speakers
Dr. Adam Balls, MD - Chair, Intermountain Medical Center ED; Murray Fire Medical Director; Utah Emergency Physicians
Dr. Adam Balls is a board-certified emergency medicine physician who is actively practicing in the Salt Lake City area for Utah Emergency Physicians. He obtained his MD degree from Georgetown University in 2004. In 2007, Dr. Balls completed his residency in Emergency Medicine at Maricopa Medical Center in Phoenix, AZ where he also served as chief resident. After his residency, Adam and his family relocated to San Antonio Texas where he served on active duty for four years as an EM physician at Wilford Hall Medical Center, a Level 1 Trauma Center and EM Residency Program. During his time in the Air Force, he served as a team leader for a Critical Care Aeromedical Transport Team on deployments to Iraq, Germany, and Afghanistan.
Adam currently resides in Salt Lake City with his wife and three children. He serves as Medical Director for Intermountain Medical Center in Murray, Utah, a Level 1 Trauma Center and the largest ED in the state of Utah. He also works as Medical Director for Murray Fire Department. Adam is passionate about delivering excellent patient care in the Emergency Department and enjoys training and teaching. He is excited to support the needs of Pure Life in his Medical Director role. Outside of his clinical work, Adam enjoys the outdoors in Utah, supporting his children in their various sports and school activities, and living life through travel experiences around the world.
---
Janis Byler, Trauma Survivor
---
Camron Dovalina, CPTC - Director, Donor Recovery Services, Donor Connect
---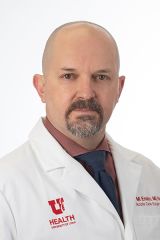 Dr. Toby Enniss, MD, FACS - Associate Professor (Clinical); Trauma Medical Director, Dept of Surgery, University of Utah School of Medicine.
Dr. Toby M. Enniss joined the Department of Surgery at the University of Utah in 2010. He is currently an Associate Professor of Surgery and the Trauma Medical Director of the University of Utah Level 1 Trauma Center.
Dr. Enniss' clinical expertise is in the areas of Trauma Surgery, Emergency General Surgery and Surgical Critical Care. In addition to his work in Acute Care Surgery, he maintains an active practice in elective General Surgery.
As Trauma Medical Director and Director of the Acute Care Surgery Service, Dr. Enniss has been instrumental in developing all facets of the Acute Care Surgery system at the University of Utah: clinical, educational, administrative and research.
---
Dr. Ramesh Grandhi, MD - Director of Neurotrauma, University of Utah Department of Neurosurgery
Dr. Grandhi is a dual-trained cerebrovascular neurosurgeon who treats vascular pathologies through both endovascular techniques and traditional, open microsurgical approaches. He has extensive experience with patients with cerebrovascular conditions such as arteriovenous malformations, brain aneurysms, intracranial hemorrhages, carotid and intracranial stenosis, and strokes. In addition, Dr. Grandhi has a tremendous clinical interest in patients with Neurotrauma and has made notable contributions in this regard on a local and national basis. He is the Division Chief of Neurotrauma within the Department of Neurosurgery and serves as the Surgical Co-Director of the University of Utah Stroke Center.
He received his undergraduate degree from Duke University and a master's degree in physiology at Georgetown University. Dr. Grandhi attended medical school at Virginia Commonwealth University and did his residency at the University of Pittsburgh Medical Center, where he completed an enfolded fellowship in Interventional Neuroradiology. He then completed a fellowship in Cerebrovascular Neurosurgery at the Baptist Neurological Institute in Jacksonville, Florida.
---
Captain EJ Hinterman - Clinical Education Department, HCA
EJ is a retired Captain and paramedic having served nearly 30 years in EMS. EJ started as a volunteer EMT, driving out to Wendover on his days off of work to gain experience. He was able to talk his way into the fire academy and eventually got his dream job, Firefighter. He worked for Midvale, UFA and ultimately retired from Draper City Fire. He's been an educator throughout his career and continues to leave his impression as a member of HCA Healthcare's Center for Clinical Advancement as a Simulation Specialist. He is still very involved in EMS education as well as volunteering for the Utah CISM team.
---
Tammy Hinterman, RN, BSN - Trauma Program Manager, Trauma Services, McKay-Dee Hospital
Tammy Brown Hinterman began her career in emergency medicine at Cottonwood Hospital. Tammy has worked as an RN, Trauma Nurse, ED Charge Nurse at Intermountain Medical Center, Nurse Manager at the Snowbird Clinic and currently serves as Trauma Program Manager at Intermountain McKay Dee Hospital. Tammy has a BSN and serves on the Board of Directors for the Utah CISM Team. Tammy has always been an advocate for improving patient care through her efforts of cooperation, education, and outreach. She has worked hard to pave roads of cooperation between the vastly different and vitally synergistic allied health industries of Pre-Hospital and Hospital-based EMS.
---
Luisa Katoa, Donor Recipient
---
Ashley Lewis, Administrative Battalion Chief - Park City Fire Department
Ashley began his career with Park City Fire District in 2007.  His interest in the fire service began in high school while riding with the Park City Fire District and learning about the job!  The best part about his job is knowing he is part of a team of professionals driven to make a positive difference in the Park City community.  Ashley holds a Bachelors Degree in Business Management with an emphasis in Finance from Utah Valley University.  He enjoys the outdoors working on the family ranch, trail running, skiing, snowmobiling, and spending time with his son and daughter.​
---
Laurie Merrick, RN,BSN,CCRN - Pediatric Life Flight
I have been caring for pediatric patients for over 30 years.  I worked in the PICU at Primary Children's Hospital for 22 years and have been part of the Pediatric Life Flight Team with Intermountain Life Flight for over 13 years.  As a Customer Service Representative with Life Flight, I provide pediatric outreach and education throughout the Intermountain Region.  I feel passionate about providing the best care possible for pediatric patients.
---
Kim Rowell, AEMT - Millard County Ambulance Director
---
Andrea Stephenson, RN, BSN - Trauma Program Manager, Fillmore Community Hospital
Andrea Stephenson is the Emergency Department Manager and Trauma Program Manager at Fillmore Community Hospital. She has spent the entirety of her nursing career in rural nursing and enjoys the challenges that comes with being a part of a rural team. Trauma is her passion. She loves getting out into the community through outreach and education opportunities. She works closely with the local EMS directors and enjoys teaming up with them to provide training opportunities. Her spare time is often spent with her husband and 4 children on their farm and ranch.